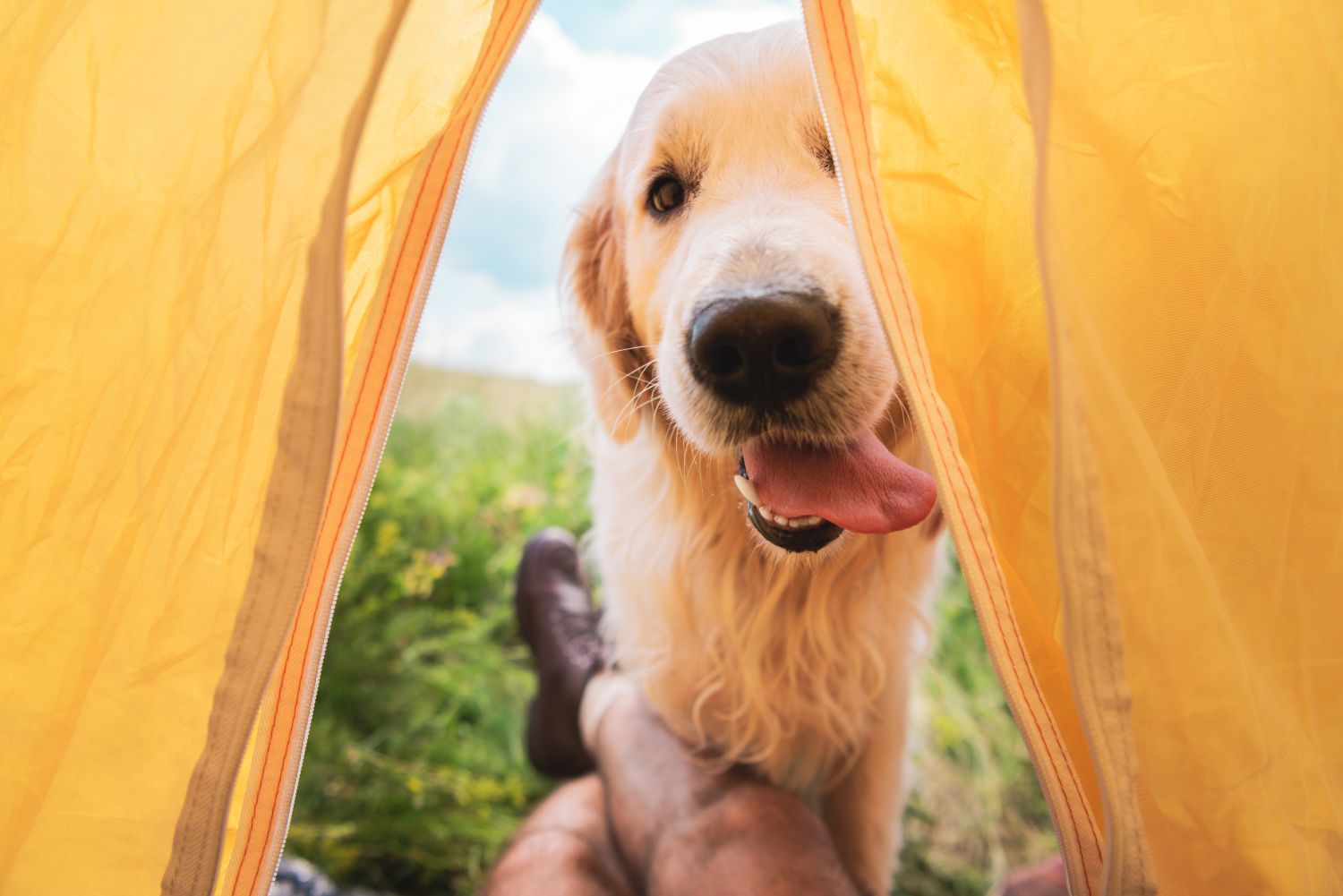 When you plan your next camping trip, you better make it a dog-friendly camping trip. Who are we kidding? We know it is. Camping with dogs is not so unusual these days, and it's almost the norm if you own a dog because none of us are going on an adventure without considering our canine family members. In fact, they'll likely get the best accommodation.
For those thinking of a month-long, weekend or one-night camping trip, we've got some dog-friendly spots you'll love. Think outback, beach, caravan parks, free camping, and gourmet camping. We've got a selection of them all.
Locations for camping with dogs in Australia
In Australia, we're pretty lucky when it comes to dog-friendly camping options, with most sites offering some form of a dog-friendly policy. We've collated some of our favourite locations in each state to make camping with dogs your next adventure!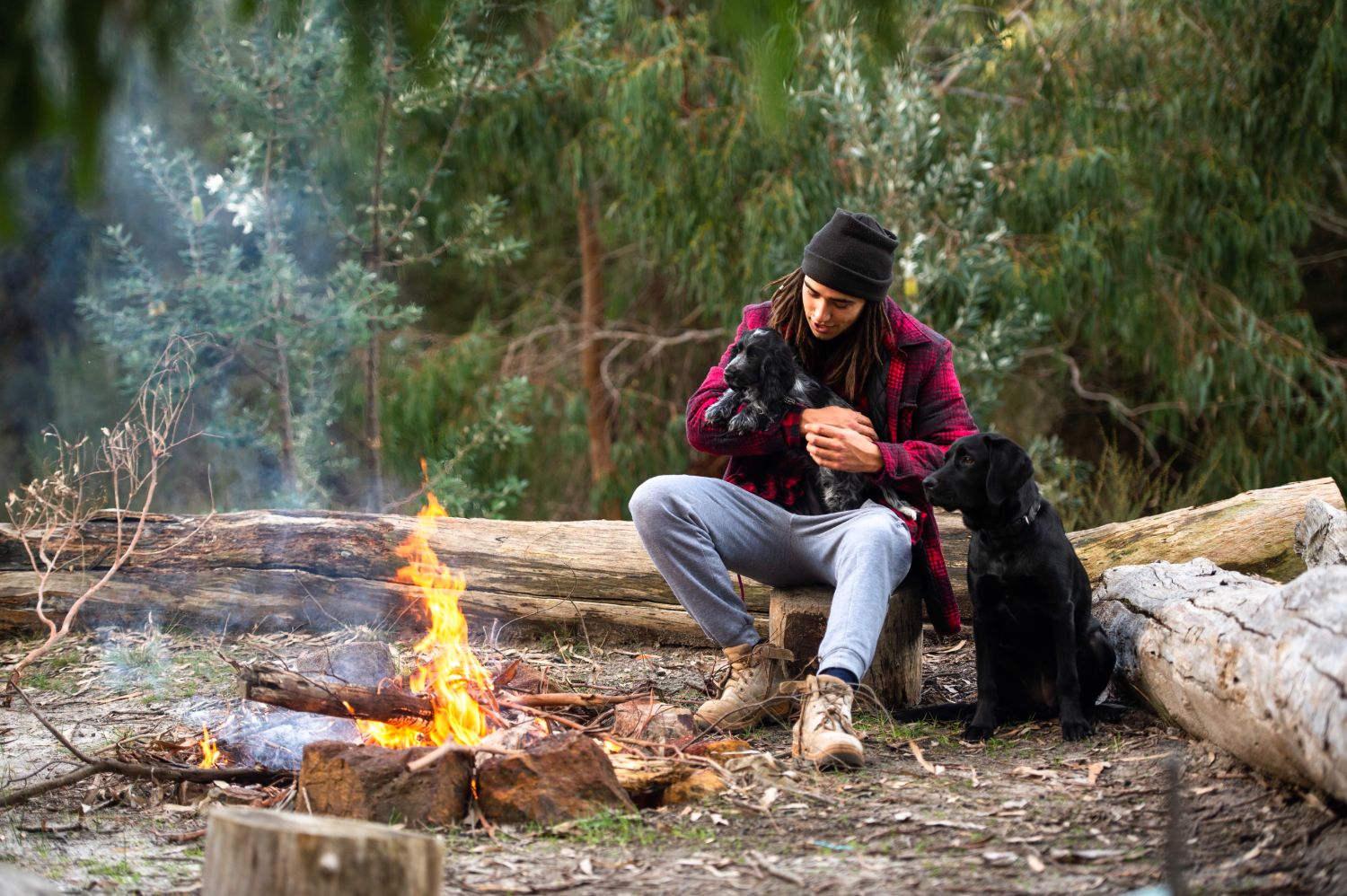 Dog friendly camping in New South Wales
Feature location: Mystery Bay Campground
This location is pure bliss for humans and dogs alike. Located close by to a couple of national parks and the famous town of Bega, this dog-friendly camping locale in NSW boasts coastal benefits, bush remoteness and excellent facilities. You also get the benefit of a dog-friendly beach! Plus, you can't beat the beauty of this landscape.
Other top dog-friendly camping spots include:
Yadboro Flats, located Western Distributor Rd, Yadboro NSW
Wollondilly River Station, located Wombeyan Caves Rd, Wombeyan Caves NSW
Delicate Campground, located 1010 Point Plomer Rd, Crescent Head NSW
Dog friendly camping in Queensland
Feature location: Charlotte Plains Station
Not your typical Queensland beach escape, but that of another kind, Charlotte Plains Station highlights the best of regional Queensland. It's a family-owned and operated sheep station near Cunnamulla, bringing visitors a unique outback adventure. Think dust, beautiful sunsets, history and outdoor baths (or troughs) you've never experienced before. Your dog will thank you for the best nature has on offer at this dog-friendly camping spectacular!
Other top dog-friendly camping spots include:
Boreen Point Campground, 1 Esplanade, Boreen Point QLD
Gordon Country, 1847/2081 Inverramsay Rd, Goomburra QLD
Kirra Tourist Park, 10 Charlotte St, Coolangatta QLD
Dog friendly camping in Victoria
Feature location: Paradise Valley
As the name suggests, this dog-friendly camping location in Victoria is found amongst rolling hills and trees, in a valley. It's located in Glenmaggie, north of Traralgon, and boasts 60-acre camping site, with access to river frontage. You can enjoy activities like, fishing, kayaking, bike riding and bush walking with your fellow fur-friend.
Other top dog-friendly camping spots include:
Apollo Bay Recreation Reserve and Camping Ground, 70 Great Ocean Rd, Apollo Bay VIC
Joanna Beach, Red Johanna Rd, Johanna VIC
Lake Hindmarsh Reserve, Lake Hindmarsh VIC
Dog friendly camping in Western Australia
Feature location: Chuditch Campground
If you love being surrounded by trees in every direction, this dog-friendly camping site in Western Australia is for you – and your dog! Located just under two hour's south of Perth's CBD, it's a great weekend escape for city folk. You can kick back in tranquillity and the fresh smells of nature while being close to the shore of the Murray River. You'll also be able to take some short trails in the area, and if you and your pooch are up for it, try walking the Chuditch Trail, which is a 7km round trip. Site facilities include an undercover picnic/BBQ area, toilets, and other picnic spots.
Other top dog-friendly camping spots include:
Rainbow Trail, Pemberton WA
Bungle Bungle Caravan Park, Great Northern Hwy, Purnululu WA
Dongara Tourist Park, 8 George St, Port Denison WA
Dog friendly camping in South Australia
Feature location: Bendlegy Ranges
Think of an unspoilt land of valleys, creeks, lots of dirt and space. Bendlegy Ranges will not only make your jaw drop but offer lots of land to cover for your curious pup. It's located north of Adelaide, just over three hours' drive and is as remote as you could desire, but with plenty of amenities. Did we mention award-winning? This place is a magical escape for both canines and humans.
Other top dog-friendly camping spots include:
Mallee Fowl Restaurant and Campground, 19044 Sturt Hwy, Monash, SA
Pine Country Caravan Park, 2-16 Kilsby Road, Moorak, SA
Hillocks Drive, 194 S Coast Rd, Marion Bay SA
Dog friendly camping in Tasmania
Feature location: Mersey Bluff Caravan Park
When you think of Tasmania, you're thinking picturesque. Well, the dog-friendly camping sites at Mersey Bluff Caravan Park don't disappoint. It's also not in thick bushland as you might expect in Tasmania, but right on the coastline in Devonport, perfect for beach lovers. It's also full of all the caravan park amenities you need if you're not keen on braving the elements in the same way as others. And when you're there, make sure you get your and your dog's picture taken at the gorgeous Mersey Bluff Lighthouse!
Other top dog-friendly camping spots include:
Lake Gairdner Camping, Lake Gairdner TAS
Crayfish Creek Van and Cabin Park, 20049 Bass Hwy, Crayfish Creek TAS
Dora Point, 286 Dora Point Rd, Binalong Bay TAS
Dog friendly camping in Northern Territory
Feature location: WW1 Gorrie Airfield
The top end is pure beauty, but the Gorrie Airfield is just about as unique as it gets for dog-friendly camping options in the Northern Territory. It's not fancy, doesn't have amenities, but is a free-camping spot you'll never forget. It was the Northern Territory's biggest aircraft service base back in World War II and now is a popular little piece of history people love to explore – or rest. You'll find this gem just off the Stuart Highway, Elsey.
Other top dog-friendly camping spots include:
Robin Falls, Dorat Road, near Litchfield NT
Mud Tank Zircon Field, Plenty Hwy NT
Dundee Beach Holiday Park, 20 Dundee Pl, Dundee Beach NT
Dog camping gear to take on your trip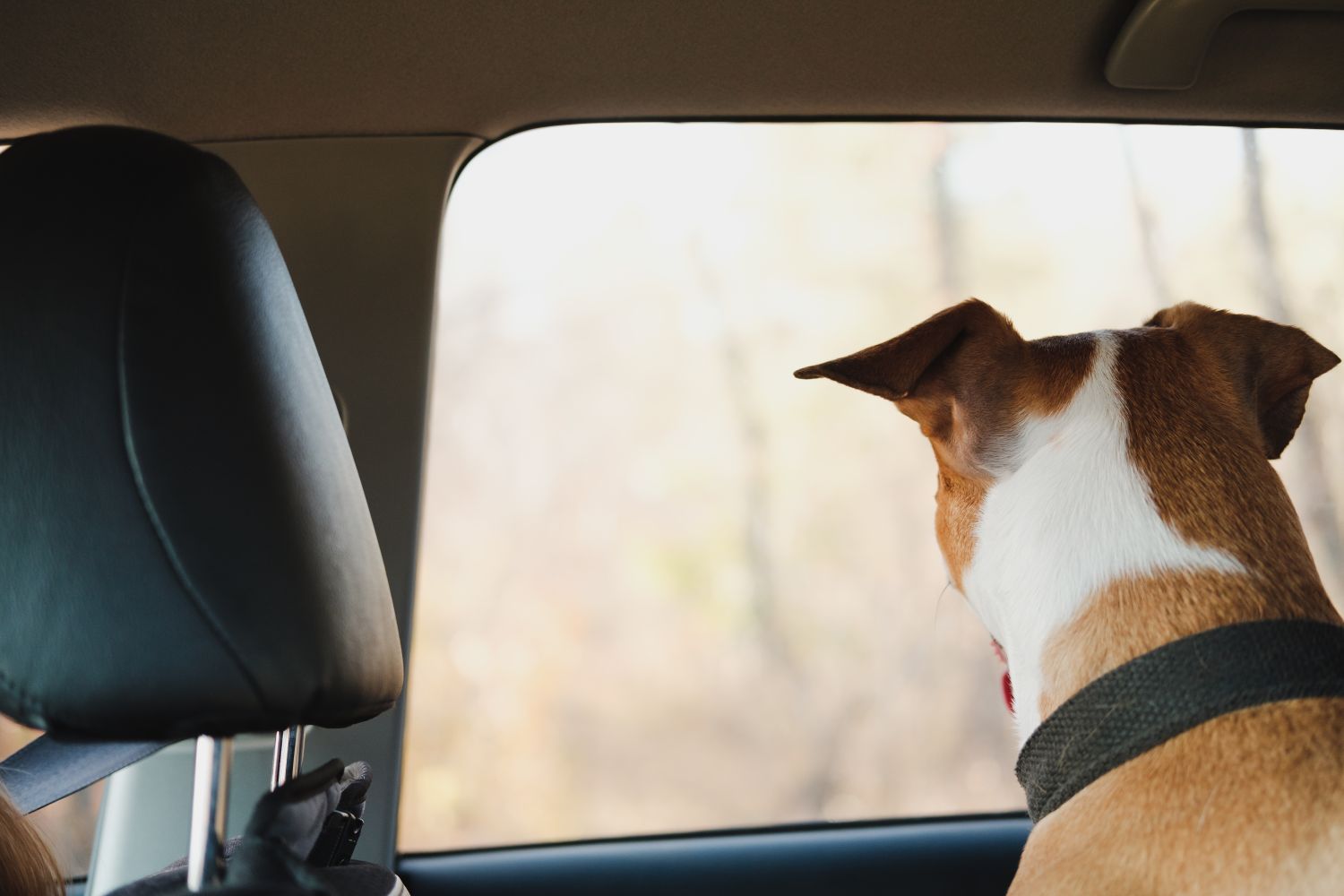 When you're on the road with your favourite four-legged friend or friends, you need to make sure you're fully equipped for the reality of camp life. Depending on the style of camping you've chosen, complete free camping or caravan park luxury, there are some key items you should bring along.
Travelling with your dog
Travel is a whole category in itself when it comes to dogs, as you need to gear up with all the right products to make your dog feel comfortable and safe. This includes:
Entertaining your dog
And don't forget the fun! Ensuring your dog receives the right amount of enrichment and activity on your trip is important, especially on longer adventures. Here are some toys and accessories to think about bringing along:
Dog camping gear to take on your trip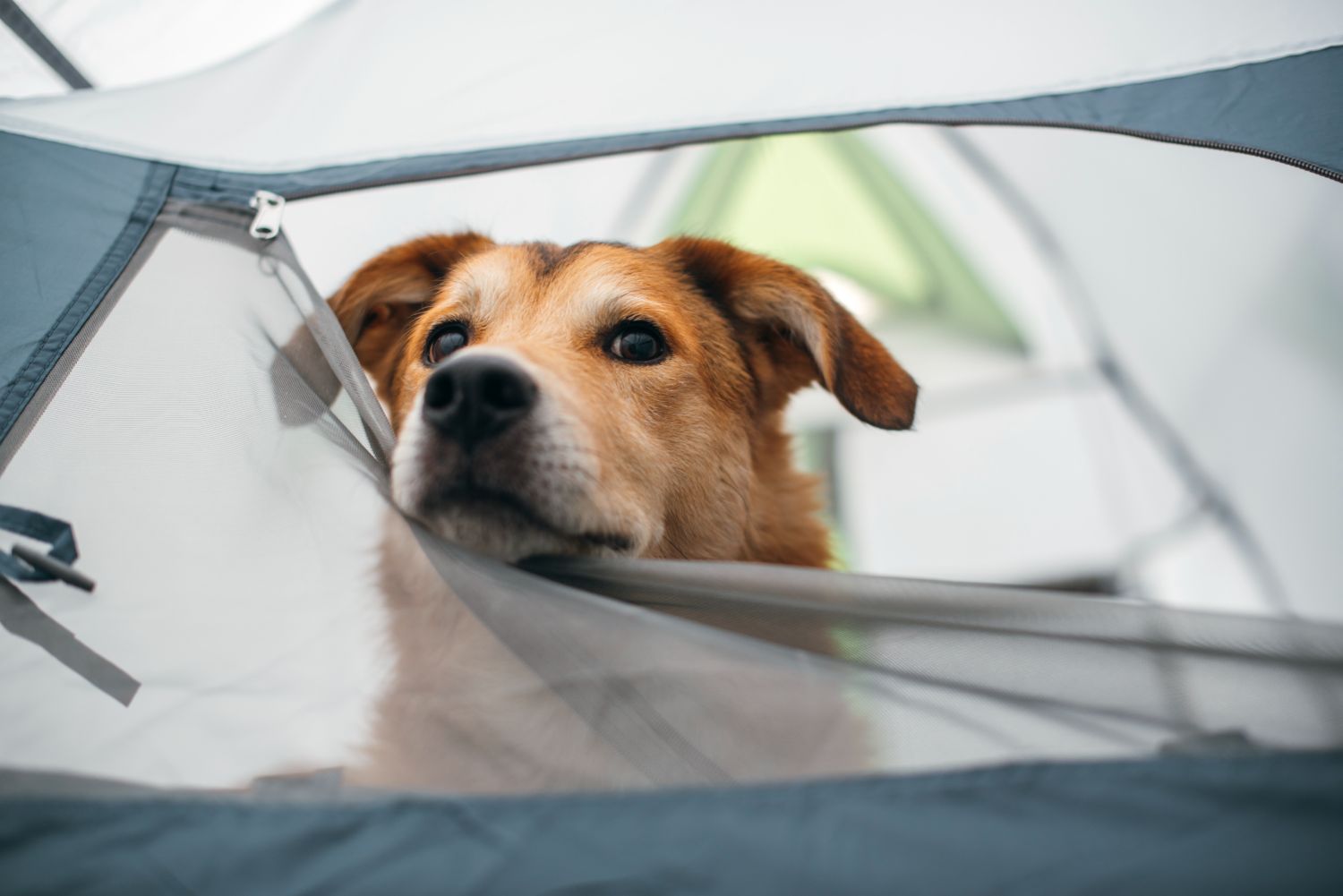 When faced with new surroundings, your dog is likely going to be excited and enthralled by what's on offer. Think new smells, people, dogs, and places to explore. However, because of this, it makes your job as pet-parent even more important to ensure their safety.
Know your enemies
Camping locations tend be right in the depths of nature and the elements, meaning you need to be fully aware of some of the possible threats to your dog – both man-made and natural.
Animals and parasites: Ticks and snakes are a common threat to dogs not just when you're camping but also just exploring through long grass or bushland. Both dangers can cause your dog to become very ill and quickly deteriorate. Always keep your dog up to date with their parasite control, bring a first aid kit with you and ensure you have an emergency plan to get your pet to a vet.

"Tiger snakes and browns snakes are quite common in Victoria. Ticks are also of particular concern in warmer climates, namely paralysis ticks and brown dog ticks, especially in bushlands in NSW. It is crucial to familiarise yourself with the local health department's warnings of particular species of poisonous creatures in your state/area," says PETstock VET, Dr Natalia Li.

Campsite: While not first on our mind, the set-up of camping sites can come with hazards. Think about the kind of things commonly found on sites, including fishing equipment, open flames, debris and tent equipment.
The elements: When encountering new environments, you'll need to think about factors such as weather, foliage, and terrain. If you're camping on an exposed site, you'll need to ensure your dog is not too hot or cold during their stay, as you'll have less control over the conditions. Furthermore, consider the plants around you, as some plants are deadly to dogs.
"Heatstroke is always a concern for dogs, with the Australian summer often seeing us reach higher than 40˚C. We feel hot wearing a singlet and shorts on those days, let alone the furry pups with coats who are meant to survive in the Antarctic; imagine wearing an oversized fur coat and going for a hike with the hot sun in our faces! With the ozone layer damaged, skin cancer is also a concern just as much as it is for us," says Dr Li.
If you're ever concerned about your dog's health, make sure you consult your vet immediately. Even better, make sure you prepare for your trip by researching the locations of nearby vets.
Now you've got some popular dog-friendly camping locations and tips, what about dog-friendly beaches?
EzyDog Backpack Summit
Troy Repel-X Insecticidal & Repellant Spray
Wag Naturally Long Lasting Split Deer Antler Dog Treats
Doog Walkie Belt
Tropiclean Waterless Shampoo Deep Cleaning
Black Dog Beef Bully Sticks Dog Treats