If you're searching for the best dog kennel for your furry loved one, make sure you're selecting one for all the right reasons. It's not difficult, but dogs, like all of us, do have their preferences and own personalities. Some dogs are happy to lay sprawled out on the carpet under your legs, while others love to have their own hideaway and retreat from any noise or humans (even though it may break our heart just a bit).
Your dog kennel research should include considerations around size, environment, your dog's age and sleeping preferences, along with your budget and product longevity. If in doubt, you know your dog best, so just take a good look at your options before making a purchase.
Here's a quick outline of what you should keep top of mind…
What is the best dog kennel for your pooch?
When it comes to selecting the right residence for your pooch, there is no 'one size fits all' approach. In your search, you'll find there are many options available, and many which may be suitable for your dog's needs.
"Every dog is different, and every owner is different, which means the choice of kennel is unique to your individual circumstances. For example, dogs who live exclusively outdoors need to have a large secure area to spend time in, suitable shelter from the elements and a decent amount of shade for our hot summer months. On a property with land that is quite exposed, maybe on the coast or high up with fewer trees around, you would need to choose a robust kennel able to withstand gusts and look to position the kennel so the opening is on the opposite side to the prevailing winds," says PETstock VET Alison Kemp.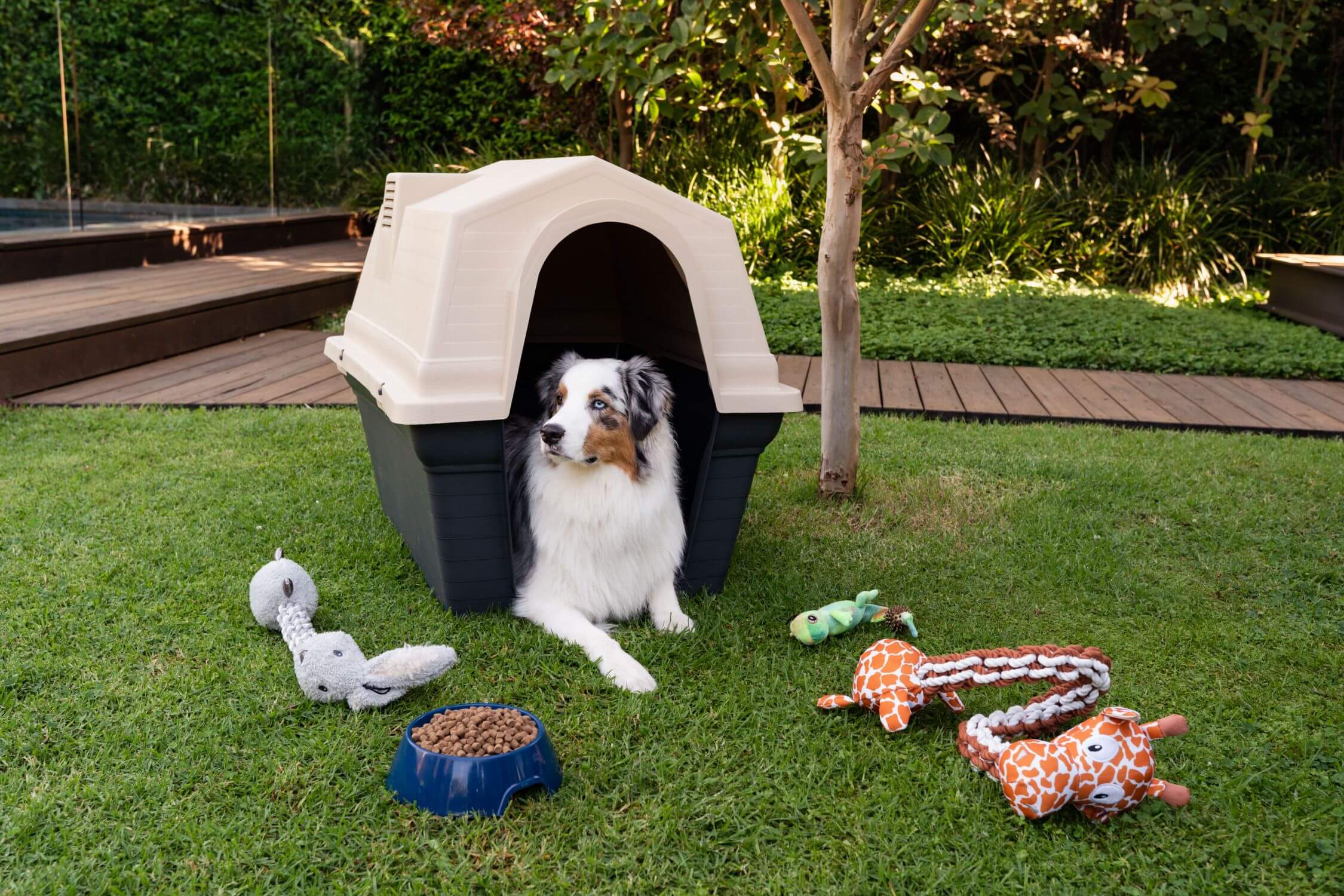 How big is your dog?
When it comes to choosing the best dog kennel for your pooch, size is really important, so you should take out the measuring tape to ensure you get it right. Given this is to be your dog's place of comfort, protection, and retreat, it needs to allow your dog enough space to curl up and move around with ease. At a minimum, we suggest buying a kennel that allows your dog to comfortably make a 360-degree turn.
Tip
Measure your dog from the nose to the tip of their tail before shopping for your new kennel, so you know you're buying the right size.

Does your dog spend most of their time inside or outside?
As mentioned earlier, it's important to consider whether your dog spends more of their time inside rather than outside – as this can play a factor in your purchase decision. If your dog laps up the creature comforts of indoor time, without any interest in facing the elements outside, then you may invest in a more standard, plastic kennel. Then, investigate indoor housing options, such as a crate, carrier or play pen. On the opposite end of the spectrum, your dog may predominately spend time adventuring the backyard, happily finding a resting place inside an outdoor dog kennel. In this case, you might consider leaning toward a bigger and more weather resistant option.
How old is your dog?
If you have an ageing citizen to take care of, consider choosing a dog kennel which can accommodate their unique needs. Many older dogs may experience joint issues at some point, which means both their indoor and outdoor housing need to support their condition. So, make sure you select a large enough kennel that can be padded out with bedding and liners – or even orthopedic bedding for extra support and comfort.
"There are lots of different dog beds available but look for beds with a thick layer of padding, or even memory foam in the base layer. Also, consider a washable waterproof cover for those doggies who may not be in complete control of their bladders anymore. Older dogs may be less able to cool down in hot weather, so a bed raised up off the floor that allows airflow underneath can be a great option in the summer months," says Alison.
WATCH: Tips for choosing a dog OR cat house
Rather get the quick lowdown? Here are some fast facts and tips on how to choose the right dog or cat house for your pet. Cats love a view from the top (where they know they rule), so why not a skyscraper home?
Types of popular dog houses
What's the best outdoor dog kennel? Which dog kennel is most durable, or most comfortable? These questions are all highly dependent on your climate, outdoor space, positioning of your kennel and even your dog's temperament. However, the most common and popular dog kennels each have their own benefits – and not all of them exclusive to one kennel.
To even begin answering, 'what is the best dog kennel', we suggest looking at the types below and checking out the product specifications of each product online.
Timber dog kennels
Timber dog kennels are probably what first comes to mind when you think 'dog kennel', and they are a durable choice for most outdoor environments. Made with a strong timber base, and often tin or plastic roofing or doors, they are a solid choice for most dogs. Plus, there are many variations and options available.
Plastic dog kennels
Plastic dog kennels are one of the most common types available and are easy to clean and assemble, plus a good option for dogs that spend a lot of their time outdoors. They are solid, comfortable, and water-resistant, so perfectly suitable for tropical areas. Like most kennels though, they are best kept out of direct sunlight, especially in hot weather.
Canvas dog kennels
Canvas dog kennels are ideal for providing shelter in warmer climates, especially the tropics. The material prevents fleas from laying eggs and is waterproof. They're also breathable; warm in winter and cool in summer, expanding with the heat to offer more room inside, and contracting when it's cold to make the kennel a lot more snug. If you and your pooch are often out and about ,and need something portable, canvas kennels are great because they're lightweight and easily transportable.
Crates and carriers
In some ways, crates or large carriers can be indoor alternatives to a kennel, as they provide a similar confined space for a dog to retreat. They are also very portable and can offer your dog a view of the world while inside resting.
Training your dog to use a crate from a young age will not only benefit them, but also allow you to securely control them or put them in safe place when you can't directly supervise them. Due to it being a place they feel comfortable (with the right training this can result), it should not feel like a punishment and should never be associated with unwanted behaviour.
Placing a towel or blanket over the top of a crate makes it darker and cosier for your pup, which can be enhanced by placing the crate under a work bench or in a quiet corner of the room.
Crate training is also integral in toilet training a puppy at a young age, as they learn to cherish their space and won't want to do their business in their bed. Be mindful that toilet training with a crate will only work if you slowly adjust them to be in their crate for staggered periods of time, as puppies do need to go to the toilet in a lot shorter intervals than older dogs, and this needs to be considered.
What's the best bedding for dog kennels?
T&S Kennel Liner
T&S Slumber Pet Mat Dog Bed
Lexi & Me Redwood Leaves Flat Bed
In the final selection for your dog's new house, think about how to keep a dog house warm, including bedding or liners to go inside a kennel, crate, or pen. Bedding is not just an extra trimming, it makes your pooch's den complete, while also providing the level of comfort your dog needs. If your dog's new house isn't to their taste and comfort expectations, you might find they prefer your couch, old clothes, or a sunny dirt patch – not ideal, but mildly amusing.
Take a peek at some of the different bedding options below, which can suit indoor and outdoor housing for your dog.
Looking for more dog advice and product suggestions? Keep reading.
Lexi & Me Grey Canvas Kennel
Lexi & Me Airline Carrier
Lexi & Me Wooden Dog Kennel
Lexi & Me Plastic Kennel
Buddy & Belle Foldable Soft Dog Crate
Lexi & Me Bolster Bed Redwood Deco